NEW:
Lecture delivered at the University of Cambridge on February, 22, 2013: 'Being a Writer in Contemporary Ukraine: Drawing the Landscape While Standing on a Powerboat'
THE PHILOSOPHY OF THE UKRAINIAN IDEA AND ITS EUROPEAN CONTEXT NOW AS FREE AUDIO BOOK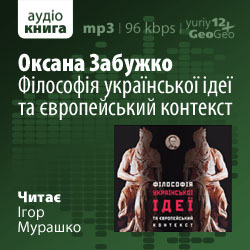 LITERATURE AND POWER. TALK AT PEN WORLD VOICES FESTIVAL, NEW YORK, APRIL 2005 (AUDIO).
An Author In The Spotlight. Essay for the panel "Choice Between Freedom and Command: Literary Autonomy and the Mechanics of Choice" at the 24th Vilenica International Literary Festival (Slovenia).
LOOKING FROM BRUSSELS: KLAAS' ASHES BY OKSANA ZABUZHKO IN THE ANTHOLOGY OF VISITING WRITERS IN BELGIUM (2004-2008).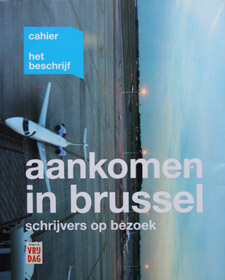 Aankommen in Brussel. Schrijvers op bezoek. Redactie Sigrid Bousset, Piet Joostens, Aagje Van Cauwelaert.
– Uitgeverij Vrijdag, 2008.
Europen Writers On Freedom: Peter Esterhazy, Andre Glucksmann, Oksana Zabuzhko et al.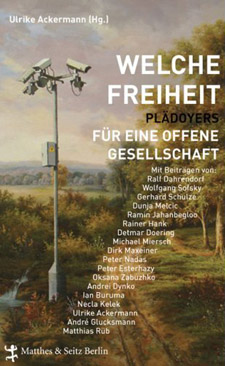 Welche Freiheit. Plädoyers für eine offene Gesellschaft. Ulrike Ackerman (Hg). - Berlin: Mattes&Seitz, 2007.

Oksana Zabuzhko, George Shevelov. Selected Letters Against the Backdrop of The Era: 1992 - 2002: With Appendixes, Comments, Biographic Materials and Other Documents.

Кyiv: Vysoka Polytsia; Fact, 2011. 504 p.
Notre Dame d'Ukraine: Ukrainka In The Clash of Mythologies.

Kyiv: Fact, 2007. 640 p
Filosofija Ukrains'koji Ideji Ta Jevropejs'kyj Kontekst: Frankivs'kyj Period (The Philosophy of the Ukrainian Idea and its European Context: the Ivan Franko Period)
Kyiv: Nauk.Dumka, 1992; Kyiv: Osnovy Publ., 1993. - 126 p.; Kyiv: Fact, 2006, 2009. - 156 p.;
Shevchenkiv Mif Ukrajiny: Sproba Filosofs'koho Analizu (Shevchenko's Myth of Ukraine: Toward a Philosophical Verification)
Kyiv: Abrys, 1997;
Kyiv: Fact, 2001, 2006, 2009. - 160 p.
Let My People Go: 15 tekstiv pro ukrains'ku revoluciju (Let My People Go: 15 texts on the Ukrainian Revolution).
Kyiv: Fact, 2005, 2006. - 232 p.
Story "The Album for Gustav" in translations:
IN GERMAN:
Sarmatische Landschaften. Ed. Martin Pollack. - Frankfurt a.Mein: S.Fischer, 2006
IN POLISH:
Sarmackie krajobrazy. Ed. Martin Pollack. - Wolowiec: Czarne, 2006
IN RUSSIAN:
Oksana ZABUZHKO. Polevyje issledovanija ukrainskogo sexa. - Moscow: Vostok-Zapad, 2007.

Reportazh Z 2000-ho Roku (News Report from the Year 2000)
Kyiv: Fact, 2001. - 96 p.
Editorship and Тranslations
GEORGE (YURI) SHEVELOV. Z ISTORIJI NEZAKINCHENOJI VIJNY (FROM THE BATTLES OF WAR IN PROCESS)

Editors Oksana Zabuzhko, Larysa Masenko.
– Kyiv: Kyjevo-Mohylianska Academia Publ. House, 2009. – 471 p.
Svetlana Alexievich. Chernobyl Prayer: Chronicle of the Future.

Translation and afterword by Oksana Zabuzhko.
Kyiv: Fact, 1998. - 194 p.
FROM THREE WORLDS. NEW WRITING FROM UKRAINE.

Ed.by Ed Hogan, with Guest Editors Askold Melnyczuk, Michael Naydan, Mykola Riabchuk, Oksana Zabuzhko.
Zephyr Press, Boston, Mass., 1996. - 282 p.
May be ordered here:
www.amazon.com